Pricing and Purchasing
Now you can purchase these products directly through our sister website:

Wind Power by Paul Gipe
An excellent introduction to wind power. Describes many pertinent concepts, situations and case studies of successful wind systems. We highly recommend it for anyone considering a wind project. Available at a discount with large orders. List price: $50.
Wind Energy Basics by Paul Gipe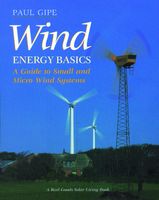 Another book by Paul Gipe about planning and carrying out a wind project. Discusses innovations in small wind and micro turbines, and compares different turbines on the market. Essential for anyone turbine shopping. Available at a discount with large orders. List price: $25.
Home Brew Wind Power by Dan Bartmann and Dan Fink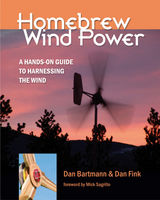 Have you ever wondered how wind turbines work and why they look like they do? Are you interested in adding wind power to your off-grid electric system, but have been put off by the high cost of equipment and installation? Well, now you can build and install your own wind turbine!
Harnessing the wind can be a tricky business, but in this groundbreaking book the authors provide step-by-step, illustrated instructions for building a wind generator in a home workshop. Even if you don't plan on building your own turbine, this book is packed with valuable information for anyone considering wind energy. It covers the basic physics of how the energy in moving air is turned into electricity, and most importantly, will give you a realistic idea of what wind energy can do for you - and what it can't.
back to top