APRS World, LLC works with other manufacturers of renewable energy products to develop products specific to their needs. Some of the services provided include:
Custom or customized data collection, including:

Hardware
Software
Internet data services

Communications with proprietary inverters
Test site development and pre-certification field testing
Here are links to a few samples of "Ready To Go Solutions" designed and manufactured by APRS World:
PS2Tap and accessories for Bergey Windpower's Excel 10kW and Excel 5kW with PowerSync II Inverter
MagWeb monitoring for Magnum Energy brand inverters and accessories
NexUCom inverter monitoring and wind data collection for WTIC / Jacobs wind turbines
APRS World, LLC offers a one-year limited warranty against manufacturing defects.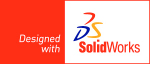 Besides our off-the-shelf products and services, APRS World, LLC can also provide custom solutions to your needs. We have a fully equipped machine shop and office for fast production development and testing. We always look at the big picture of production design; for that we use latest version of Solidworks mechanical design software. Please contact us and let us know how we can help you or your company!
Dealers and resellers who would like to adapt APRS World, LLC's products to fit their product lines are invited to contact info2011@aprsworld.com to learn more about customization options. APRS World can provide custom labels for products along with customization of specification sheets and manuals.