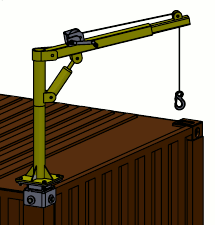 Introduction
ISO standard shipping containers make excellent workshop and storage spaces. APRS World, LLC's Container Crane Mount allows a jib crane to be easily attached to the corner of the container and provide up to 1-ton crane service. We have made the crane mount flexible enough to accomodate many different makes and models of jib cranes.
Datasheet, Drawings, Cut Sheet
A datasheet with drawings and assembly overview is available.
Compatible Cranes
The top plate of the container crane mount is 270mm x 270mm x 12.77mm (10.625in x 10.625in x 0.5in). It is pre-drilled to accomodate many standard jib cranes. It can be drilled in the field or special ordered from APRS World, LLC to accomodate most any crane. Please send bolt pattern and other mounting details to APRS World, LLC's applications engineers for a quotation.
Known Compatible Cranes
Northern Tool & Equipment
Vestil (available from Northern Tool & Equipment)
Harbor Freight
Thern
Installation
There are three heavy, welded nut plates that go inside the container corner fitting. The base installs over the corner fitting. Large, heavy hex bolts secure the container crane mount to the container. The crane bolts on top of the base using the hardware supplied with the crane.
All components are hand liftable and can easily be carried up a ladder to the container. No lifting equipment is required.
An experienced installer can install the container crane mount in approximately 10 minutes. Allocate 20 to 30 minutes for a first time installation.
Pricing and Purchasing
Container corner crane mount
$450.00 USD


Crane mount for ISO standard container's corner fitting. Allows a jib crane, up to 907 kg (2,000 lbs) capacity, to be attached to a shipping container corner fitting. Includes main mount, special corner fitting nuts and bolts, and hex key wrench. Supplied with either hot dip galvanize or powder coat finish.
Note: Does not include crane or crane mounting bolts.