Many of our products are available for purchase directly through our sister website offgridoptions and through Amazon. Just look for these symbols in the product description:
Our usual lead time is one week before shipping. This is because many of our products are built-to-order. For an additional 10% charge plus shipping we can usually ship your order sooner. This charge is necessary because expediting orders disrupts our work flow, which costs us more. Same day shipping for off-the-shelf orders is not guaranteed. Please note that FedEx has an earlier cut-off time than UPS, so those orders must be placed early in the day if same day shipping is requested.
We accept VISA, MasterCard and American Express over the phone or through e-mail or personal and corporate checks and money orders in the mail. For larger orders we can accept a wire transfer, however outgoing bank fees must be paid by the customer. Paypal is not accepted.
APRS World is located in Minnesota so sales tax applies to some in-state orders. Minnesota has a sales tax exemption for renewable energy equipment so we will not collect tax on our wind monitoring products. All other taxes are the responsibility of the purchaser.
APRS World offers shipping via UPS and US Postal Service. For orders requiring FedEx or other shipping methods, a handling fee of $5.00 for U.S. and $15.00 for International orders will be added to the shipping fees. We reserve the right to charge reasonable handling fees for non-standard shipping requests or for quoting shipping charges from more than two shipping companies.
The map below will help you estimate UPS Ground delivery time from our manufacturing facility in Minnesota to your U.S. location.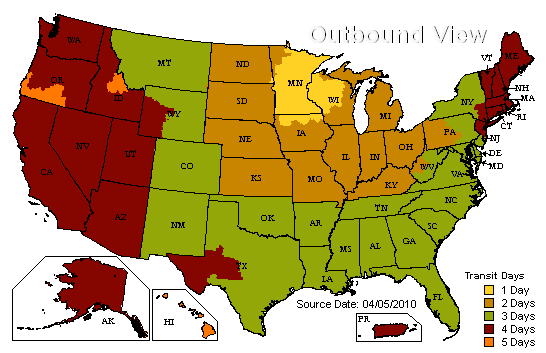 Please note: Some shipping companies preferred by international customers (such as TNT) are inherently more expensive due to the fact that they have no direct operations in the U.S. The need for secondary carriers increases their expenses and prevents them from offering competitive pricing.
For export shipments we must mark the full value of the package; please don't ask us to do otherwise.