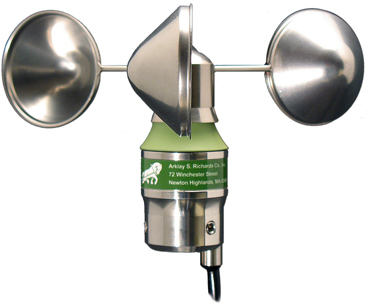 Standard Compact Anemometer, Coated:
All Stainless Steel Construction
Strong and Light Weight Titanium Rotor Hub
Anti-ice Coated Shaft Tower
Hardened Stainless Steel Shaft
Compact Profile and Light Weight
.50" O.D. Tubing Mount
Field Replaceable Stainless Steel Bearings
Field Replaceable Reed Switch
Internal Over Voltage Protection
Anti-Ice Coated Rotor Cups
Anemometer Output
Pulse Output from Reed Switch Contact Closure
4 pulses per revolution
Anemometer Performance and Transfer Functions
Maximum Speed
230+ mph or 102.82 + m/s
Reed Switch Pulse/Sec Output Signal Range
0 to 322
Distance Constant @ 63% Recovery
33.20 ft or 10.12 m
Measuring Range
0 mph to 230 mph, 0 m/s to 102.82 m/s
Characteristic Transfer Function
V [m/s] = .3191 x f [Hz] +.71
Characteristic Transfer Function
V [mph] = .7138 x f [Hz] +1.59
Starting Threshold All Positions Averaged
2.70 mph or 1.21 m/s
Starting Threshold @ Optimum Flow Position
1.54 mph or 0.69 m/s
Accuracy Test Range
8.97 mph to 100.60 mph or 4.01 m/s to 44.97 m/s
Accuracy within Range with Characteristic Transfer Function
.2 mph or .1 m/s
Electrical Technical Data
Reed Switch
Voltage 200 Vdc max, current 1.0 A max
Magnet
4-Pole
Materials of Construction
Shaft Tower
316 stainless steel
Shaft
Hardened 303 stainless steel
Anemometer Housing
316 stainless steel
Cups, Arms, and Rotor Assembly
316 stainless steel, Titanium
Bearings
C-BRN0203OF double shielded, hardened stainless steel balls
Physical Dimensions
Height
4.25 inches or 107.95 mm
Weight
.942 pounds or 427.28 grams
Body Diameter
1.50 inches or 38.10 mm
Swept Diameter of Rotor
5.5 inches or 139.70 mm
Rotor Cup Conical Cross-Section
2.196 inches or 55.77 mm
Electrical Connections and Cables
Cable End
108" cable split with bare leads
Cable
2 conductors, 20 gauge, shielded with drain, PVC jacket
Tools Required for Mounting, Installation, and Maintenance
Tools
1/8, 5/32, inch Allen Wrench, Phillips Screwdriver and .25" torque pin
Mounting
0.5 inch or 12.7 mm diameter mast with three set screws
Environmental Specifications
Operating Humidity Range
0 to 100% RH
Bearing Operating Temperature
-65°F to 300°F or -54°C to 148°C
Reed Switch Operating Temperature
-40°F to 257°F or -40°C to 125°C
Anemometer Protection
Finish
Modified green anti-ice coating on shaft tower
Climatic Protection
Protection against water, high humidity, salt spray, and dust
Electrical Protection
Over voltage and surge protection incorporated in electrical components
Calibration Test Standards
ASTM D 5096-02
Standard Test Method for Determining the Performance of a Cup or Propeller Anemometer
ISO 17713-1
Meteorology Wind Measurements Part 1: Wind Tunnel Test Methods for Rotation Anemometer Performance
back to top

Now you can purchase these products directly through our sister website:

AS Richards anemometer, compact, switch pulse output, anti-stick coated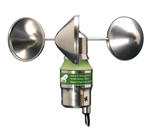 AS Richards anemometer, compact, switch pulse Output, green anti-stick coated rotor (C5C-2263-1-SP).
The Richards C5C Compact Anemometer is the perfect sensor for wind resource analysis projects for the wind industry. It offers a reed switch pulse output. This anemometer is made completely from high grade stainless steel and Titanium for maximum durability and corrosion resistance and features a green anti-stick coated rotor.
This is a special order item that may require a two week lead time prior to shipping.
AS Richards, buck horn wind sensor crossarm


The BHC-36-C-SS Buck Horn Wind Sensor Crossarm is a heavy duty, stainless steel wind sensor mounting platform for C5C series anemometers and D5C series wind vanes. The arm is used to securely mount two wind sensors horizontally on a common mast.
914 mm (36 in) span, 13 mm (0.5 in) O.D. sensor mounts, 1" female NPT, 316 stainless steel (BHC-36-C-SS).
This is a special order item that may require a two week lead time prior to shipping.
AS Richards, wind sensor mast adapter


Mast adapter, 152 mm (6 in) long, 1" NPT female, solid 316 stainless steel (C-MMA-16-06).
For applications requiring only a single anemometer or wind vane mounted on a mast or pole.
This is a special order item that may require a two week lead time prior to shipping.
back to top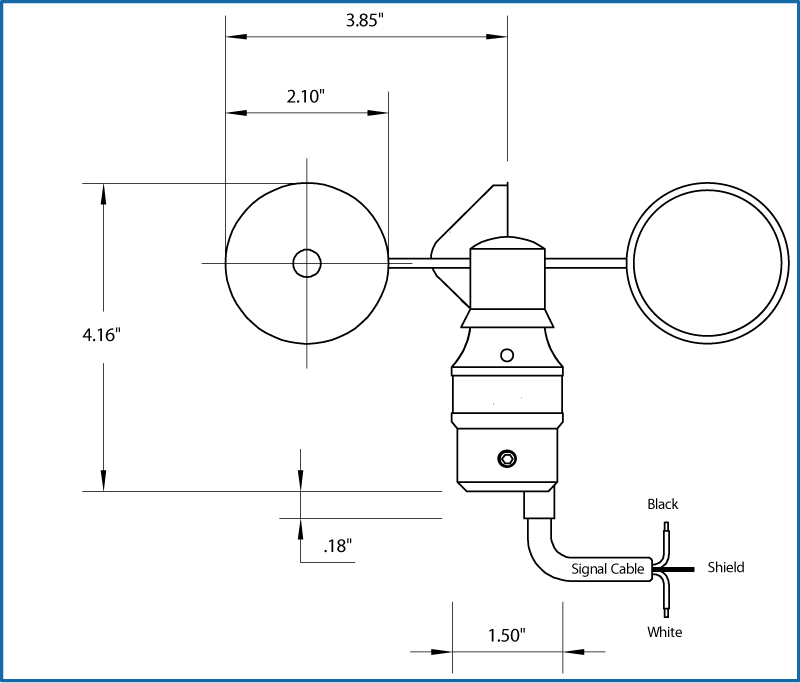 back to top