Pricing and Purchasing
Solar radiation shield, shield only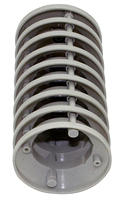 Solar radiation shield for a Temperature Sensor or a Temperature and Relative Humidity Sensor.
Note: This is the plastic shield only. No mounting hardware or accessories included.
Shield Dimensions (W x H): 76 mm x 152 mm (3 in x 6 in)
Internal Dimensions (W x H): 44 mm x 127 mm (1.75 in x 5 in)
Solar radiation shield
Solar radiation shield for temperature sensor or for temperature and relative humidity sensor. Provided as an easy to assemble kit. A variety of mounting options are possible. Can be mounted to a wall or structure with customer supplied mounting screws. Can also be mounted to a pole or mast with customer supplied hose clamps.
Shield Dimensions (W x H): 76 mm x 152 mm (3 in x 6 in)
Overall dimensions with bracket (L x W x H): 114 mm x 76 mm x 279 mm (4.5 in x 3 in x 11 in)
Internal Dimensions (W x H): 44 mm x 127 mm (1.75 in x 5 in)