Introduction
The Mast Quick Coupler is designed to allow a small wind turbine to be rapidly attached to a mast. Operation is as simple as pulling the slide ring down, inserting the wind turbine and releasing the slide ring. The coupler uses four ball bearings and an alignment key to lock the wind turbine from sliding out or rotating.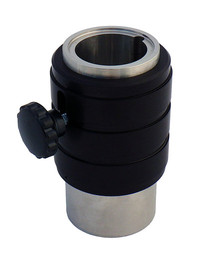 Compatibility
The Mast Quick Coupler is compatible with all APRS World, LLC wind turbines. The yaw spindle of the APRS World, LCC wind turbine incorporates special geometry allowing it to slip into normal pipe and work with the Mast Quick Coupler. APRS World can produce adapters to work with other popular micro wind turbines from Southwest Wind Power, Leading Edge Turbines, Ampair, Rutland and others. Please contact APRS World LLC's application engineers for assistance.
Non-wind Turbine Applications
Wind turbines are not the only application for the Mast Quick Coupler. Antennas, instrumentation, cameras and anything else that requires a quick mount are good candidates.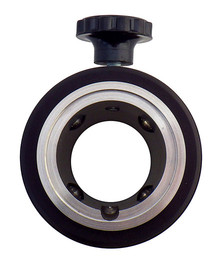 Installation
For wind turbine applications, the quick coupler needs to be integrated structurally with the mast. The body of the quick coupler is made from 304 grade stainless steel. We recommend fully welding the body to your mast. It can be welded to mild steel using a welding rod suitable for dis-similar metal, such as 309L TIG rod.
For wind turbine applications where welding is not possible (example: carbon fiber mast), it is up to the customer to design and test an alternative attachment method. Based upon extensive testing, we do not recommend threaded attachment (bolts, screws, etc.) of the quick coupler body.
Non-wind turbine or low load applications may be possible with slip interference fit, set screws, adhesive or other quick coupler body to mast attachments. APRS World, LLC can supply the quick coupler body machined to slip over a specific size mast, flanged or a variety of other configurations.
Solid Model
A Solidworks 2012 model is available for the quick coupler body as a 1.0 megabyte file. Other 3D formats (IGES, STP, etc.) are available upon request.
A 3D solid model and dimensioned drawing for the male (equipment side) portion of the quick coupler will be available shortly. Please contact APRS World, LLC if you require this immediately.