Pricing and Purchasing
Telescoping mast, 15 m (50 ft), Rohn Radian

$225.00 USD

15 m (50 ft) telescoping mast. Base section diameter is 57 mm (2.25 in), made with 18 gauge galvenized steel. Top sections is 32 mm (1.25 in) outer diameter, made with 16 gauge galvenized steel. Anemometer boom or stub mast can be attached to the mast using stainless steel hose clamps. Mast must be guyed at least four levels. Erection of mast will require at least a step ladder, compass and the following materials:
Rope or wire rope: ~1300 feet required for guying in four directions and five levels. ~1000 feet for guying in three directions and five levels.
Soil or rock anchors: Twist in anchors work for most soils. Four required for guying in four directions. Three required for guying in three directions.
Fence post or large stake for base
Quick links if using rope: 20 for guying in four directions and five levels. 15 for guying in three directions and five levels.
For short term installations, parachute rope (sometimes referred to as 550 cord) will work well. It can be found at a local or online surplus stores. A taught line hitch (http://en.wikipedia.org/wiki/Taut-line_hitch) works nicely for tensioning the guy ropes. Installations using parachute cord are reasonable for up to a year. For longer term installations galvenized or stainless steel wire rope is recommended.
Because the mast is just over 10 feet long, it must ship via motor freight. Our flat rate shipping is $150 within the continental USA.
An instruction manual (2.0 megabytes) is available for download. Please view the instruction manual for drawings of the mast and guy wire lengths.
Tower, tilt-over, 29 m (97 ft), made by Bergey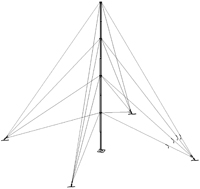 $3,130.00 USD

The Bergey Tilt Tower is the most complete, out-of-the-box, user-friendly tower system for a small wind turbine and small wind site assessment on the market today. The Tilt.Tower is a guyed tilting tower that allows all work to be done at ground level The Tilt Tower is ruggedly built and comes with the longest warranty (five years) in the industry. The Tilt Tower is the factory recommended tower for the Bergey XL.1 1kW Wind Turbine. It combines cost-effectiveness and ease of installation, and provides an excellent tower for wind site measure needs.
The Tilt Tower kit includes all of the components and fasteners required to assemble and ground the tower. The tower can be installed without concrete work in areas with good soil strength and minimal rocks (that would impede the augering for the guy-wire anchors). In weak or rocky soils the use of concrete to fix the anchors is required. The tower kit includes material for grounding the tower (or "earthing"™), an important element in protecting the system from lightning damage. The towers have sections ~ 3 m (10 ft) long and they ship via motor freight. The Installation Manual for this tower is available here: www.aprsworld.com/masts/XL1.Tilt.IM.4.pdf
As shown in the drawing, the tower is guyed in four directions. The tower is guyed at vertical intervals of approximately 6 m (20 ft). The Tilt Tower is best installed on level ground, but can be installed on slopes or uneven terrain provided the base and the anchors on the tilt-axis can be kept fairly level. After assembly of the tower and measurement sensors on the ground, the tower and turbine are tilted-up to the vertical position using a winch (optional) or a vehicle. A winch is preferred because of the greater control they afford. The towers are provided with a lever arm, called a gin-pole, which runs from the base towards one of the guy anchors. The gin-pole converts the pulling force on the pull-up rope or cable into a lifting force on the turbine and tower.
The Tower ships directly from Bergey's factory in Norman, Oklahoma, USA. Please contact APRS World for a shipping and lead time quote.
Small wind turbine display stand
$150.00 USD

Display stand for small wind turbines. Accommodates any turbine that uses 1-1/2" schedule 40 pipe. This includes the Chinook 200, Leading Edge LE-300, Southwest Wind Power's Air line of turbines and many others.
Vertical member is 1-1/2" schedule 40 aluminum pipe. Brushed finish. The base is galvanized scheduled 40 steel pipe for weight and stability. Assembly is accomplished in about 30 seconds using the supplied Allen wrench.
back to top