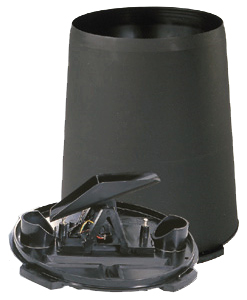 APRS World has evaluated many low cost rain gauges over the years and considers the Davis 7852 Rain Collector to be the best value. Connecting the Davis 7852 to the Wind Data Logger requires an adapter or custom cabling. APRS World offers the Rain Collector and wiring adapter as a package, or you can buy the adapter alone. Below you will find what Davis says about their Rain Collector:
The Rain Collector is designed to meet the guidelines of the World Meteorological Organization. Rain enters the collector cone, passes through a debris-filtering screen, and collects in one chamber of the tipping bucket. The bucket tips when it has collected an amount of water equal to the increment in which the collector measures (0.01" or 0.2 mm). As the bucket tips, it causes a switch closure and brings the second tipping bucket chamber into position. The rain water drains out through the screened drains in the base of the collector.
The collector is designed for years of accurate, trouble-free service. The body and base of the collector are constructed of tough, UV resistant plastic; the tipping bucket pivots on bearings that minimize friction and wear. Stainless steel adjustment screws under each chamber of the tipping bucket allow you to fine-tune the calibration of the Rain Collector.
The rain collector comes with an optional metric adapter for converting the rain collector to take 0.2 mm rain measurements for every tip of the bucket. The rain collector comes with mounting holes pre-drilled in the base and a built-in leveling trough to aid you in installing the rain collector. The Rain Collector Heater is available for use with either of the Rain Collector units. This heater allows the Rain Collector to measure the moisture content of snowfall and protects the internal components from freezing rain. If mounted according to instructions, the Rain Collector is wind tunnel tested to be stable in winds up to 140 MPH (224 kph).
Rain gauge, tipping bucket
Davis 7852 or 7857 Tipping Bucket Rain Gauge.
back to top

An instruction manual is available from Davis. You can disregard the Davis weather station specific instructions.
Specifications
A specification sheet is available from Davis.
Hookup Information
We have documented wiring connections between the Davis 7852 and our Wind Data Logger.
back to top