When adding a wind vane to your Wind Data Logger package, there are a few things to keep in mind. If you are adding it to one of our Starter or Basic Packages, you will need an Anemometer and wind vane Splitter Board to attach your wind vane using a Cat5 cable. Self-Contained Outdoor Packages use our Arctic Ultraflex Blue™ Cable with bare ends and do not require the splitter board. If you are not sure about whether you need a splitter board, please call or email your questions to us.
We also offer a Z-Boom that allows you to offset your Wind Vane on the same mast as your anemometer. The Z-Boom also allows you to install additional anemometers at different heights on the mast.
Wind vane cable, 30.5 m (100 ft)

Arctic Ultraflex Blue™, UV resistant, three Conductor / 20 AWG, power limited tray cable, 300 volt. This is our finest sensor cable and is exclusive to Off Grid Options / APRS World, LLC. It consists of three 20 AWG conductors protected by an ultra tough and highly flexible Arctic Ultraflex jacket. The cable remains flexible to -55° (-67°F). Conductors are red, white and black. This is ideal cable for our Wind Vane.
Custom sizes available.
Anemometer / wind vane replacement boot, green, molded vinyl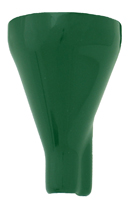 Replacement molded vinyl boot for our #40R anemometer and wind vane. Not compatible with APRS6500 series anemometer.
Anemometer and wind vane splitter board
The splitter board allows up to three anemometers and one wind vane to be connected to the Wind Data Logger using normal CAT5 cables. It is compatible with our DIN rail mounting feet. Board dimensions are 72 mm x 44 mm (2.85 in x 1.75 in). This is needed when just the Wind Data Logger Module or one of the Starter or Basic Packages is used. It is not required when using any of the Outdoor Self-Contained Packages (AC, Solar or Polar edition).
back to top

back to top