Pricing
Need a Quote or More Information?
---
Get into contact with us and we will spend the time to get you exactly what you need.
Crane Logger
To maximize productivity and ensure the safety of your crane operations, APRS World, LLC, offers the Crane Wind Speed Logger. Bolted to the tip of the crane, our Crane Logger provides data logging for historical records of wind conditions and live data for safety and operational decisions. Our design philosophy is that data is most important. Data is downloaded wirelessly from a laptop computer running the supplied software. No cables to run. With an optional in cab Wind Speed Display, live data can be viewed by the crane operator.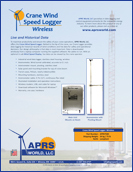 Refurb & Recertification Services
Refurb & Recertification costs may vary. Please call for more information.
Installation & Training Services
Occasionally, our clients need product maintenance immediately and cannot wait for an APRS World Employee to be on site. This is why we offer training in the use and maintenance of our products.
Installation and Training costs may vary. Please call for more information.
Crane Logger Related Parts
| Part Number | Description |
| --- | --- |
| APRS7550 | Wind Speed Logger, wireless, for cranes |
| APRS7510 | Wind speed display, wireless, for use with Crane Wind Data Logger |
| APRS7512 | Battery charger, automatic, for storage/maintenance |
| APRS7514 | Cable, anemometer or wind vane, for crane logger, 5 m (16.4 ft) |
| APRS7516 | Wind vane (wind direction) add-on for Crane Wind Speed Logger |
| APRS7517 | Universal tubular boom attachment kit for pivoting sensor mount |
| APRS7518 | Laptop computer for crane logger data retrieval |
| APRS7519 | Shipping and storage case for crane logger sensors and accessories |
| APRS7530 | Cabu communications and in-cab display package for crane logger |
| APRS7601 | Universal Bolt-on Tip Mount, Pivoting, for Wind Sensor |
Crane Logger Replacement Parts
| Part Number | Description |
| --- | --- |
| APRS6506 | Anemometer, #40HC |
| APRS6507 | Wind vane, NRG #200P |
| APRS7010 | RF Modem, USB, 802.15.4 XBee-PRO |
| APRS7511 | Install kit for Wind Speed Logger |
| APRS7531 | Battery jumper cable for cabu cellular gateway, 15.2 m (50 ft) |
| APRS7600 | Mounting plate, for universal bolt-on tip mount |
| APRS7602 | Pivoting head for universal bolt-on tip mount |
| APRS7603 | rdLogger circuit board assembly, for Crane Wind Speed Logger |
| APRS7604 | Power lightning circuit board assembly, for Crane Wind Speed Logger |
| APRS7605 | Wireless communications module, 2.4Ghz, 802.15.4, for Crane Wind Speed Logger |
| APRS6607 | Anemometer to 12.7 mm (0.5 in) NPT female adapter, stainless steel |